Aroma(n)tica Treehouse, Monferrato, Northern Italy
Is it views you're looking for? This dreamy cabin is set on stilts above the luscious Italian countryside in the picturesque region of Monferrato. The region is famed for its wines, and this rental allows access to the wine cellar carved in the late XIXth century, with the typical "infernot", barrels and an ancient press.
£142/night
Bird Island, Stann Creek Dist, Belize
Why stay anywhere else when you could stay on a coral reef? The theme of this tiny island is Robinson Crusoe, and it's true that you'd be on an adventure (kayaks for exploring nearby islands are provided), and it's self-catered too. Don't worry though, you won't have to hunt and kill your food castaway style, the nearest village is only 20 minutes away by car. Belize is a paradise, and the colourful finish on Bird Island, right down to the hammock, makes it the perfect spot to enjoy it.
£198/night
Salobreña Villa, Salobreña, Andalusia, Spain
This deco villa had us at "all floors and bathrooms marble". And then again at "two pools". And then it really closed the deal with the "spectacular view of castle, mountains and sea". The other great thing about this Andalusian palace? You can visit in the summer to top up your tan, or in the winter for skiing in the Sierra Nevada mountains, just one hour's drive away.
£196/night
Trullo of 1800 in the Itria Valley, Cisternino, Brindisi, Apúlia, Italy
Puglia is known for is Trullos - white, stone, domed cottages, usually situated on farmland and usually so tranquil all you can hear is the sound of insects buzzing. This one is beautifully finished inside (although some tastes may prefer a more rustic/ old fashioned option). Brindisi, the nearest city, boasts winding lanes, insanely good Italian food and cute churches. But for the ultimate in adorable Puglia destinations, travel up coast for a day to Polignano a Mare - you won't regret it.
£64/night
Hillside Apartment, Oia, Santorini, Greece
If you dream of nestling into the Santorini cliffside, this small but perfectly formed, typical Greek apartment ticks all the boxes. That sun terrace is just screaming for a good book and a cold beer.
£315/night.
Kealakekua Bay Cottage, Captain Hook, Hawaii
Tucked away in a tropical forest, this cabin is the perfect getaway for two. It's so close to the beach, you can fall asleep to the sound of the waves. The front yard includes a private gazebo and outdoor picnic area, and the property is perfectly secluded from the surrounding village. The open structure — which features a tree limb growing right through the ceiling — is made from Balinesean teak, and the intricate woodwork only adds to the magic.
£111/night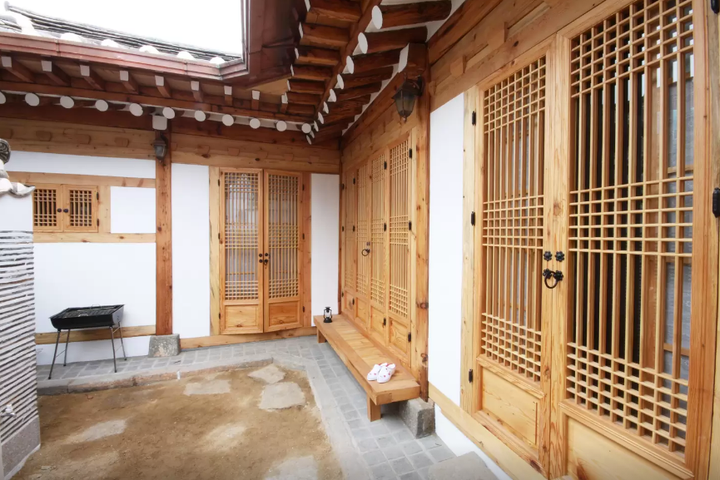 Traditional Hanok, Seoul, South Korea
This unique rental gives you a glimpse into the past — without sacrificing any modern comforts. The hanok, a traditional Korean house, was built in 1934, but was completely renovated in 2012. The simple furnishings include bedrooms with futons, dining tables where guests sit on the ground (atop gorgeous silk pillows), and sliding glass doors that let in lots of light. It's almost like stepping back in time — until you see the high-tech thermostat and high-speed internet.
£141/night
PHOTO: COURTESY OF AIRBNB.
The Fisherman's Cave House, Santorini, Greece
Your Sisterhood of the Traveling Pants dreams are one step closer to coming true. Up to five guests can enjoy this lovingly restored traditional classic "cave house," which is literally carved into a cliff above the seaside town of Oia. It's a five minute walk to restaurants and bars, but you may not want to leave — why venture out when you have your very own Jacuzzi and these views?
£211/night
PHOTO: COURTESY OF AIRBNB.
Mushroom Dome Cabin, Aptos, California
This quaint geodesic dome house is conveniently located in Monterey, a short drive from town and the beach — but you'll feel like you're in the middle of nowhere. The eco-friendly construction includes a composting toilet, which may take some getting used to, but there's a full kitchen, which comes pre-stocked with snacks, and a sleeping loft with a Casper mattress. The owners also welcome guests to enjoy their farm (with baby goats!), as well as the hummingbirds that flock to the many feeders around the property in the summer.